Using bingo cards is something I've done since I was an NQT and I've always found it to be a useful way to test pupil knowledge of characters or quotes. It's simple enough to include a group of either on the cards and then call out a clue which the class have to decipher in order to cross off enough to get a line or full house. It's fun and as a simple knowledge test, reliable but it can take up a lot of time both during the lesson and in the planning stages.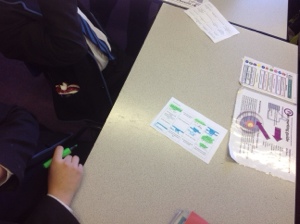 Recently I've been thinking about developing the quality of the content as well as making it more focused on pupils taking ownership of the game. Most recently with Year 9, I was hoping to embed their knowledge of the characters at the beginning of a unit on Romeo and Juliet (particularly now that they need to have a much greater depth of knowledge with the new GCSE assessment approach) and ensure that they were able to link these with key quotes in preparation for a scene analysis of theme.

Each board had a slightly different layout to ensure that the whole class didn't match everything at once but in order to foster a more independent approach; the pupils worked in pairs with a set of coloured character cards each turning over the cards and matching them to an appropriate quote or analysis point. As you can see in the pictures, cards can be laminated and two coloured highlighters can be used too. Wipe clean and reusable!
This format is so versatile that it can be developed from Bingo to Connect Four according to the rules that you set as a teacher. It can be used as an indicator of gaps in knowledge or as a springboard to prompt further and more detailed discussion. Rather than having simply characters and quotes, the boards can be developed to include analytical statements about characters and events which pupils must discuss before 'marking' or blank squares can be left in order for pupils to add their own thoughts. Used as an individual or paired task, for a quick warm up, plenary or as a revision tool before the exam, it never gets old. Let's face it, the novelty factors will always be there. After all, who doesn't love a good game?