Having just returned to my classroom following the Easter break, I have been bombarded with stories of foreign holidays (very jealous), chocolate abuse (i really don't think daring your brother to eat that many creme eggs was wise Jordon!) and tales of a well-needed chance to recharge the batteries. My pupils are full of stories about their Easter break and having had a couple of noteworthy visits myself, I wanted to try and inject some culture in to my lessons.
One of the places that I visited on my Easter travels was The Manchester Art Gallery which holds a varied collection of both modern and traditional pieces including my current 'muse' Head VI; a transitional work based on Velazquez's 'Portrait of Innocent X'. It powerfully depicts a man screaming and presents an (albeit a little) unsettling expression of raw emotion which I decided to draw upon in relation to the key themes and issues within Shakespeare's Romeo and Juliet.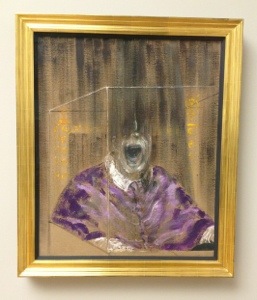 Being an advocate of Ian Gilbert's Thunks and using my own adaptation of them to start each lesson, I wanted to get my year 10′s Thunking before they walked through the door (a key requisite of my clarify-prepare-share-link technique), which is where the painting came in. I have also been using SOLO with the class for a while now and they are confident enough with the levels to set their own challenges, in addition to using the levels to self and peer assess and set targets. So, this morning's Thunk came in the form of the painting and three questions ranging from Unistructural to Relational. Ah the power of choice!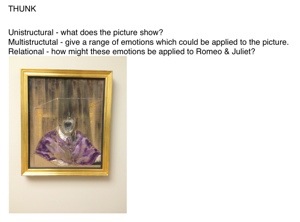 I think it's important to build pupil answers up from a Unistructural (single idea) level in order to draw out both prior knowledge (I was looking to revisit the themes after two weeks of chocolate overload!) in addition to challenging them to make links between the 'messages' of the painting and the themes and issues addressed within the play. I find that this method allows pupils to 'self-challenge', working up to, and then extending their work beyond their comfort zone, which they do with little direction adding well-needed depth to responses. Simples!
Purposely, I printed each Thunk on A4 paper rather than A5 to pose a challenge. Although I acknowledge that this may not be environmentally friendly; it is friendly to the learning as I tend to find that this group particularly, challenge each other to fill the page with their ideas. This does, of course, require regular questioning to clarify any misconceptions and ensure quality in addition to quantity. In this situation, A4 acts as a barrier to remaining at a Unistructural level, as more ideas are required; the expectation is higher when they know the response requires both quantity and quality of ideas.
Having spent fifteen minutes working through the prompt questions (preparing the task) during which time I was able to move around the room questioning and taking sneaky pictures of some of the ideas; it was time to 'share'. The Thunk had provided some interesting points and we moved through the responses, some of which were projected through the IWB, discussing pupil findings.
Although I hadn't provided a prompt for Extended Abstract, the discussion of pupil answers produced some fantastic responses at this level, my favourite of which was:
'I think the character in the painting is angry as he is screaming while also showing his wealth due to the purple clothing that is often associated with royalty. This links in with the issue of class and society within Romeo and Juliet as he could represent the Montagues or the Capulets who are from powerful families. In the painting, the character is in a display case like you would find in a museum. This could be seen to represent the powerful families of Verona being on display to the rest of society but they are not presenting a positive image as they are fighting and having an impact on the lives of the rest of the people in the town in a bad way'.
Having just completed a unit on An Inspector Calls, pupils were also able to make links within and between the texts, a skill that is constantly required and always good to practice, however covertly. The purpose of the exercise was to get pupils thinking on a deeper level about the themes and issues within the play and to that end, it did 'what is said on the tin'. I think, however, the greater outcome here and one that I hope to see developed further in their writing, is that they are able to move beyond the constraints of point, evidence, explain and develop their own opinions of the text; therefor consolidating 'perceptive' responses of quality and depth.